Quality Kitchen Hood & Exhaust Cleaning
When you schedule your appoint to have your kitchen exhaust system cleaned our technicians will clean your hood, exhaust fans, ductwork and filters. We will remove all grease and debris from your hood and kitchen exhaust system to allow you to cook in a grease and smoke free environment. When the process is complete your kitchen will not be left in a mess and your will be able to continue your day to day cooking operations. Our team will take before and after photos of your system and show you exactly what has been done and leave you with the proper certification for the fire marshall or your insurance company to review. We take pride in offering the of service to all of our customers and want to keep your restaurant fire safe.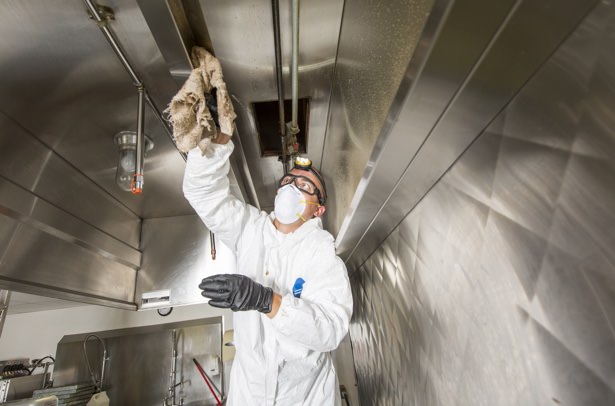 What is Kitchen & Exhaust Cleaning
Cleaning your kitchen exhaust system and hood is very important for your facility to prevent fires and protect your investment from disaster. Our staff uses state of the art techniques to clean your hood and ductwork to prevent grease fires. Each year 11,000 structure fires are reported at cooking establishments and over half originate in the kitchen. Staying on a regular maintenance schedule bi annually will greatly reduce the risk of fires within your kitchen. We clean all the components of your hood including your exhaust fans, baffle filters, grease ducts, and your kitchen hood. We will also make sure with each visit that you are compliant with your state inspector, insurance company, and your fire marshall. For over 15 years Red Star Services has been providing commercial hood cleaning services throughout Minnesota and Wisconsin with a reputation of excellence and quality.
Why Kitchen & Exhaust Cleaning Is Important
We Specialize In These Industries
Full Service For An Affordable Price
Tons of Reasons to Choose Red Star Services
Fully Insured & Licensed.

We keep you compliant with NFPA Standards.

Affordable Pricing to fit your Budget.

We use State-of-the-Art Cleaning Technology.

We won't leave your Kitchen in a mess.

Friendly & Professional Technicians.

Professionalism with a detail for safety and quality work.

Free Inspections & Estimates!
On-Site Quality Control Specialist.

IKECA licensed, Insured and bonded.

We provide before and after photos of each service

We stand by and guarantee every service.

Advanced cleaning techniques with state of the art chemicals.

We have the most competitive pricing with the highest level of service.

We service in many areas.
"By far the best hood cleaning company we have every used. They showed up on time, were very professional, gave us our certification stickers, and all of the proper paperwork to pass our inspection from our insurance agency and the state department. The crew even went above and beyond and cleaned our dumpster pad making it look brand new again. We could not thank you guys enough. We are really pleased with your work. Thanks again guys!"
"My hood and kitchen exhaust system has never been so clean. I am so glad I found this company. I have had trouble in the past finding a dependable company that will not leave my kitchen a mess but Randy and the crew at Red Star are amazing. Very professional, prompt and always willing to help. Great Job guys we love the results!"
"Wow these guys are amazing ! I can not say enough about Red Star Services. They showed up on time did an excellent job and provided us with all the proper documentation so we could pass our state inspection. I look forward to using them again."
"Redstar came to our facility and did a great job cleaning up all of that kitchen hood grease, and really gave us peace of mind. They did a great cleanup job afterwards as well! Thanks Redstar!"
1. Receive a Free Estimate
We're happy to set up a day to come out to your establishment and give you a free estimate. Too far? We can provide a rough estimate over the phone.
Red Star Services works around your business schedule so you won't experience a gap in service! You'll receive a confirmation call the day before.
Our certified, friendly technician comes out and performs the work. We always clean up your place before we leave so you can continue to serve your customers once our work is done.
4. Receive Inspection Report
Every establishment we service receives a detailed inspection report that includes what we did and a list of items that need to be replaced or maintained.
Contact Us Today to Get Started!
Fill out the form below and we will contact you.